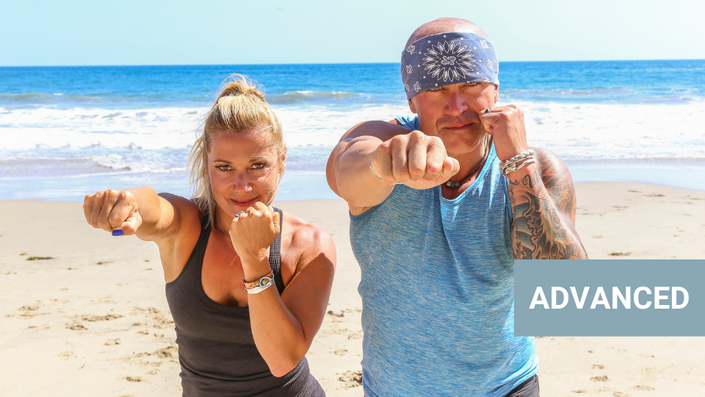 21 Day Down and Dirty: Advanced Workouts
21-Day Fitness Reset
Get down. Get dirty. Tone up! It's time to push through that next level in your fitness goals with Laura and Scott's "Down and Dirty" fitness series. These workouts give you a solid 21-day burst of cardio and core in high intensity training style that can be adjusted to meet all levels. Whether you are new to Laura and Scott or have been following us for years, you will enjoy laughing, sweating, and getting a day-by-day plan to keep you consistent toward results.
These workouts are meant to be gritty and tough -- so you can infuse and reflect that in your life. Enough talking, more action. Time to stop, drop and workout!
Frequently Asked Questions
How long is this workout series? How long is each workout?
It is a self-paced course designed for a 21-day burst. Each workout is approximately 30 minutes.
What fitness level is this designed for?
Our fitness programs are designed to be open for all fitness levels. With so much attention to proper form and technique -- it's not about how many reps, it is about how well you perform each move. The workouts are based on time intervals not number of reps, allowing you to move ahead at your own pace with a quality over quantity approach. As you get stronger and build your endurance and stamina, you will surprise yourself!
Do I need equipment?
This series is bodyweight only. We recommend a mat, water bottle, small towel, and a good attitude!
Can exercises be modified for different levels or pre-existing injuries?
Absolutely! Listen in to the workouts and you will hear cues on how to modify moves so you can continue to work the same muscle groups but regress a movement so it can be made easier. On the other hand, if you are a total rockstar and ready to progress a movement, the style of programming for these workouts are designed to fit all levels, pushing you as you are ready to become more advanced.
Less talk, more action. Let's go! See you inside.